5 Seconds of Summer (5SOS) is an Australian pop-rock band that has won over millions of fans around the world. Since their inception in 2011, the band has gained enormous popularity and amassed a devoted fan base. In this article, we will look at the outstanding qualities that distinguish 5SOS in the music industry and in the hearts of their fans.
1. Ascend to glory
The origin story of 5SOS band exemplifies the power of social media and talent. The band first achieved popularity by uploading YouTube renditions of popular songs, demonstrating their musical ability and engaging personalities. Their covers garnered a devoted internet following, which piqued One Direction's interest. In 2013, 5SOS was invited to join One Direction's "Take Me Home" tour, which introduced them to a wide global audience and catapulted them into mainstream stardom.
2. Various musical influences
5SOS draws inspiration from a wide range of musical genres, including pop-punk, rock, alternative, and even some pop hints. Because of their musical flexibility, they are able to write songs that appeal to a wide range of audiences. Their dynamic approach to music has drawn admirers from all walks of life, making them a band that is universally appealing.
3. Loyal fanbase
The "5SOS Fam" is well-known for their ardent support for the band. The band has created a strong feeling of community among their fans through social media involvement, fan gatherings, and fan-driven projects. In turn, 5SOS acknowledges and thanks its fans on a daily basis, establishing a reciprocal relationship based on mutual affection and respect. Let's take a look at these items from Koolteee below if you are a fan of this band: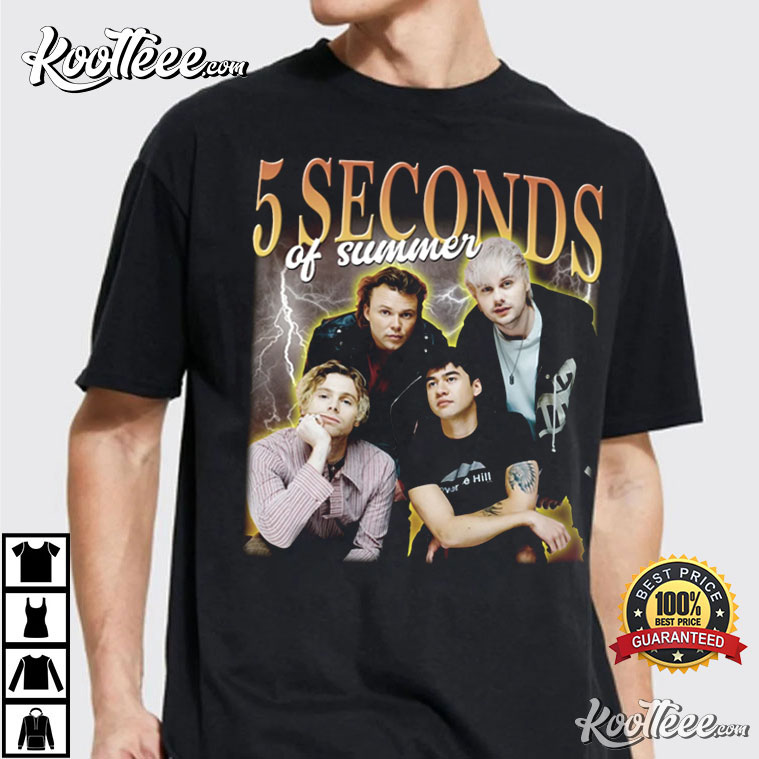 5 Seconds Of Summer Bootleg Vintage Tour T-Shirt
Get it of you are a big fan of 5SOS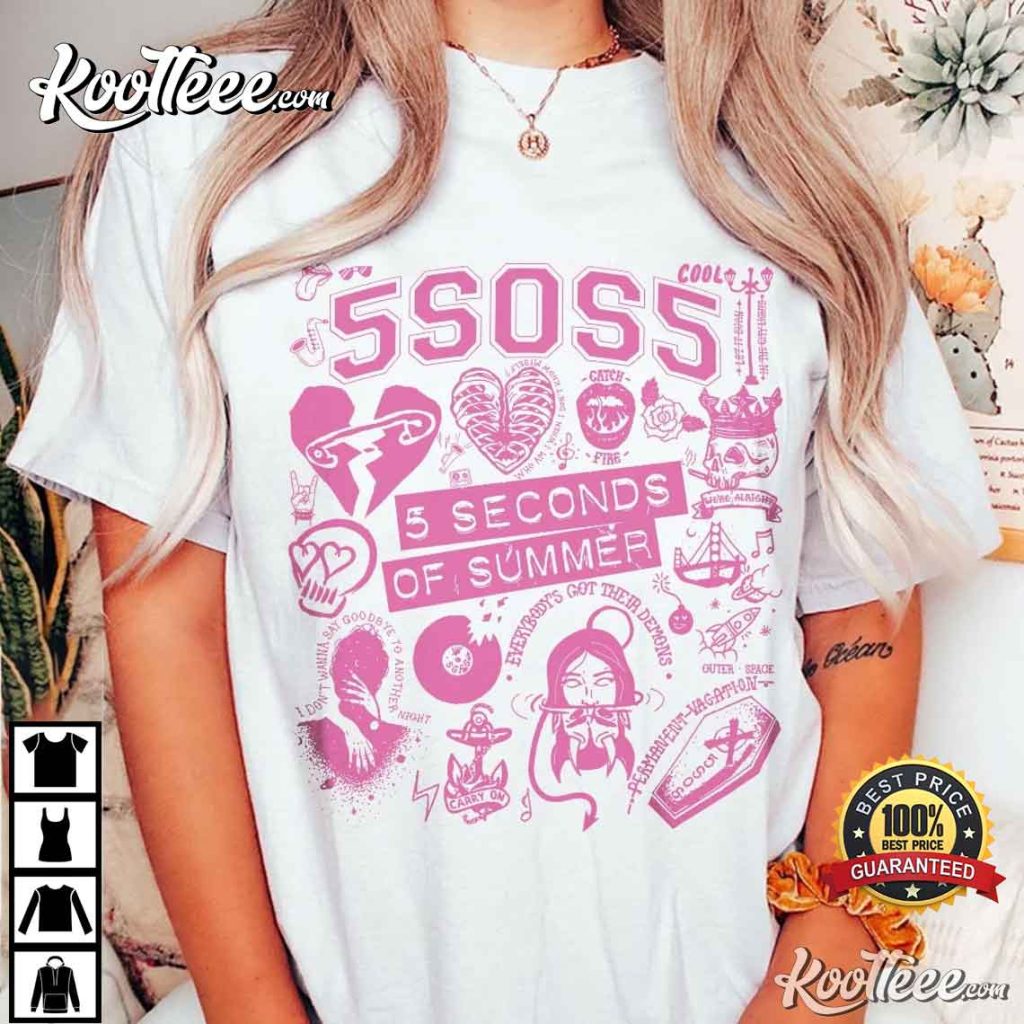 5 Seconds Of Summer Doodle Art Vintage 5SOS5 Album Lyric T-Shirt
Pink T-shirt for fangirl!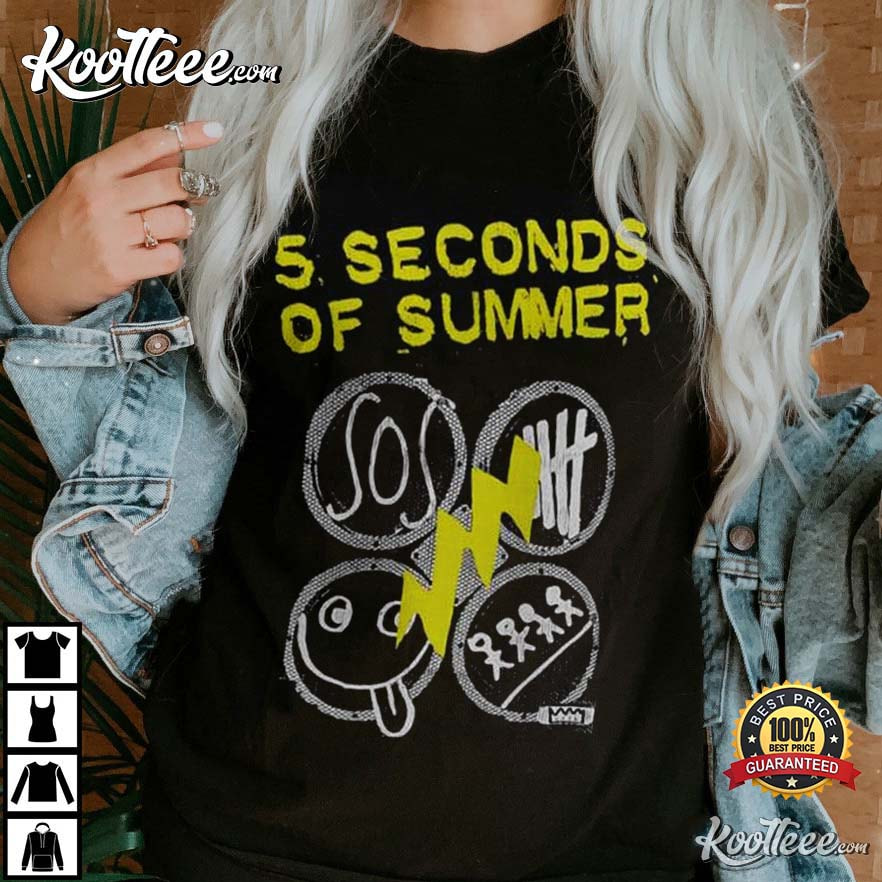 5 Seconds Of Summer Presale T-Shirt
Amazing 5 Seconds Of Summer icon.
4. Friendship and cooperation are strong
The band members' true connection is visible in their interactions both on and off stage. Their friendship not only improves their musical chemistry, but it also serves as a model of unity and support for their followers. This sincerity in their relationships has inspired followers by demonstrating that great ties can be created through shared passion and talent.
5. Musical development and evolution
5SOS musical evolution and innovation rather than adhering to a formula. Each album represents their artistic progression, providing listeners with a new sound and perspective with each release. This willingness to take risks and grow has allowed them to stay current and attract new listeners on a regular basis.
6. Fantastic stage presence
The mesmerizing stage presence of 5 Seconds of Summer is a trademark of their live performances. The members of the band have a fantastic capacity to engage the audience, giving exciting and emotional performances that leave fans shouting for more. Their on-stage connection elevates the overall concert experience, making each performance a thrilling occasion.
7. Headlining tours that are completely sold out
5 Seconds of Summer went on several successful headline tours across multiple continents. 5SOS tickets were sold out in enormous theaters and arenas highlighting their dedicated fan base and live performance abilities. They constantly created high-energy, exciting shows that left fans wanting more.
In addition to their own headline tours, 5SOS appeared at a number of major music festivals across the world. Their attendance at festivals allowed them to reach a larger audience and consolidate their place as a notable artist in the modern music landscape.
8. Hit singles
The band's singles, several of which became big hits, helped them gain immense notoriety. Songs such as "She Looks So Perfect," "Amnesia," "Youngblood," and "Want You Back" were just a handful of their chart-topping hits.
9. YouTube and streaming success
As previously said, 5SOS first got attention on YouTube by posting covers and original music. Their YouTube channel received millions of views and subscribers, significantly expanding their fan base. Their songs have performed extraordinarily well in the era of music streaming, gaining millions of streams on sites such as Spotify and Apple Music.
10. Self-written songs with inspiring lyrics
Beyond beautiful melodies and captivating rhythms, their song lyrics explore universal subjects such as love, heartbreak, self-discovery, and personal growth. Their compositions frequently carry a sense of vulnerability and honesty, engaging with listeners who find comfort and consolation in the emotional depth of the music.
5SOS, unlike many other musicians that rely largely on songwriters, actively participates in the creative process. Each member of the band contributes to the creation of the lyrics and music, which reflect their individual experiences and feelings. This level of commitment not only exhibits their artistic integrity, but it also serves to establish a deeper connection between the band and their audience by allowing them to convey their genuine shelves via their music.
11. Honors and recognition
5SOS won numerous nominations and prizes from various music award ceremonies and organizations. Among their many honors are Teen Choice Awards for Choice Music Group, Choice Song: Group for "She Looks So Perfect," and Choice Summer Group. They have received two ARIA Awards in Australia for their musical achievements.
12. Billboard achievements
5SOS became the first Australian act to top the Billboard 200 with their self-titled first album, which was released in 2014. Furthermore, they were the youngest band (all members were in their late teens at the time) to accomplish this accomplishment since the Beatles in 1964. This accomplishment cemented their status as a rising power in the music business.
The albums by 5 Seconds of Summer typically performed well on the Billboard charts. Not only did they have No. 1 albums on the Billboard 200, but they also had No. 1 albums on other Billboard charts, including the Mainstream Top 40 and Adult Contemporary charts. Their appearance on many Billboard charts demonstrated their vast appeal across various groups.
13. Significant social media presence
The members of the band were quite active on social media, notably on Twitter and Instagram. Through live streams and Q&A sessions, they gave glimpses of their life, behind-the-scenes experiences, and communicated directly with fans. This approach to social media enabled them to establish true connections with their following.
Conclusion
The extraordinary path of 5 Seconds of Summer from YouTube covers to global popularity is a testament to their ability, devotion, and genuineness. 5SOS continues to create a lasting impression on the music business with their meaningful songs, engaging performances, and genuine connection with fans, making them genuinely remarkable in every way.