Going to the beach allows you to show off your beachwear outfits and fashion sense while being comfortable in the sun. Having the correct beach gear can make or break your day, whether you're soaking up the rays or enjoying a cool plunge in the ocean. This blog will provide incredible beach outfits for women that will make you look and feel wonderful. We have got you covered for your next beach day, with everything from contemporary bikinis to sophisticated cover-ups and accessories. Let's get started!
1. Elegant maxi dress, one of the top-notch beach outfits for women
A lightweight maxi dress with a flowing skirt is a versatile option for a beach day. To completely embrace the beach mood, choose bold colors or tropical designs. The maxi dress is both comfortable and stylish, making it ideal for strolling along the beach or drinking cocktails at a seaside bar. Off shoulder maxi dresses, open back maxi dresses, yellow maxi dresses, and green maxi dresses will all be very eye-catching and help ladies earn points in the eyes of everyone around them.
2. Some cooled-style beach dresses
Two-piece skirts with ruched motifs or lace trim are also excellent choices for your summer vacation. Women are not only able to show off their body curves, but they are also highly fashionable and lovely. Certainly, this is one of the stunning beach outfits for women
There are those of you who like to dress quietly in women's beachwear. If you are a shy girl in public, a basic sleeveless dress or pleated armpit dress will be ideal for you.
Although yellow and white are likely to be popular summer colors, you may also opt for other distinctive and trendy hues such as lime dresses, pink purple dresses, and so on.
Sexy slit-cut dress is considered a beach party dress with an open back neckline that is delicate and lovely. When you put it on, it has a distinct and distinct flavor. You can also wear an open back dress on your vacations, which is light but yet very feminine.
3. Bikini is certainly one of the best beach outfits for women
The classic bikini is everlasting. You can even add a fashionable twist by using unusual designs, bright colors, or attractive cutouts. For an effortlessly elegant appearance, wear it with a matching cover-up and accessorize with large sunglasses and a wide-brimmed hat.
Because each sort of swimwear is designed to fit a specific body form. If you do not have a fit body, you might choose non-revealing bikinis or one-piece bikini sets to show off your figure the most. You can take a look at these items below from Koolteee to have more fashion taste for your style: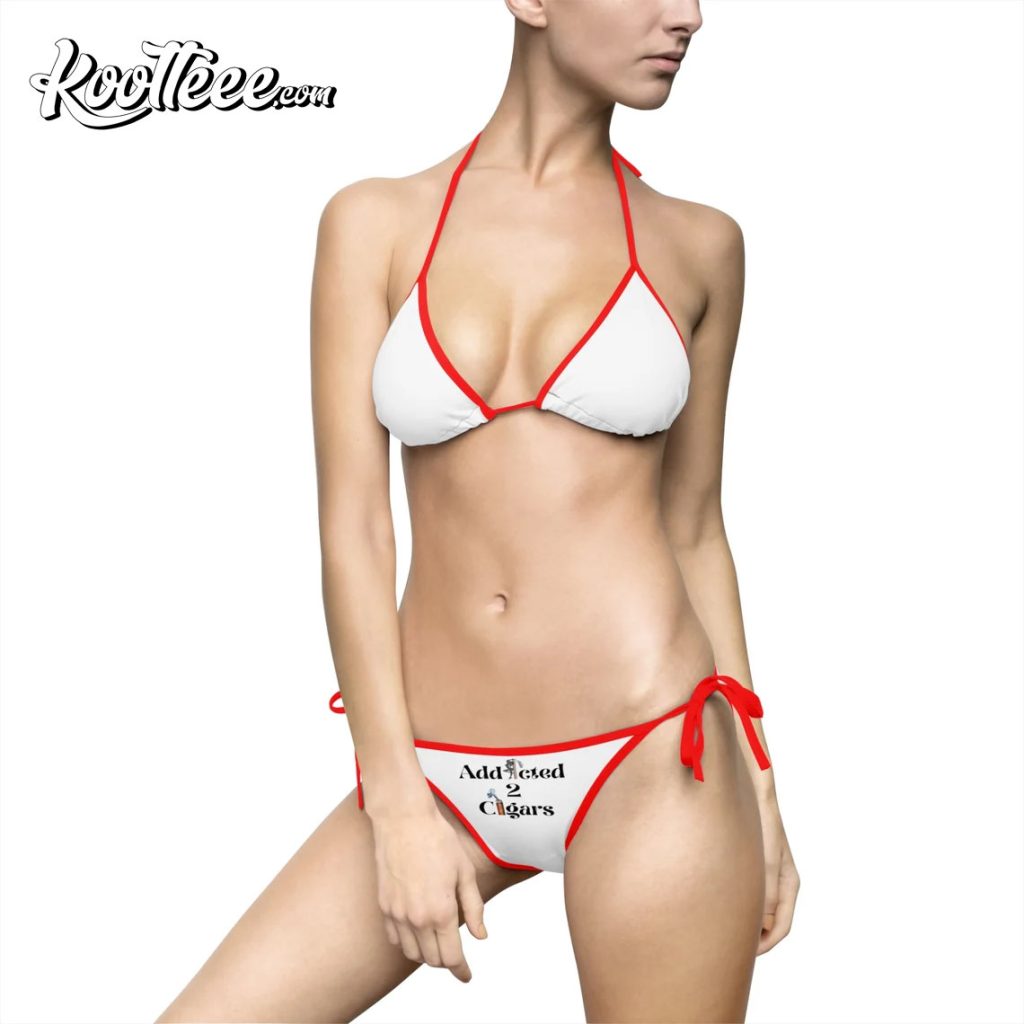 Addicted2Cigars Women's Bikini Swimsuit
Make an addicted look in the beach!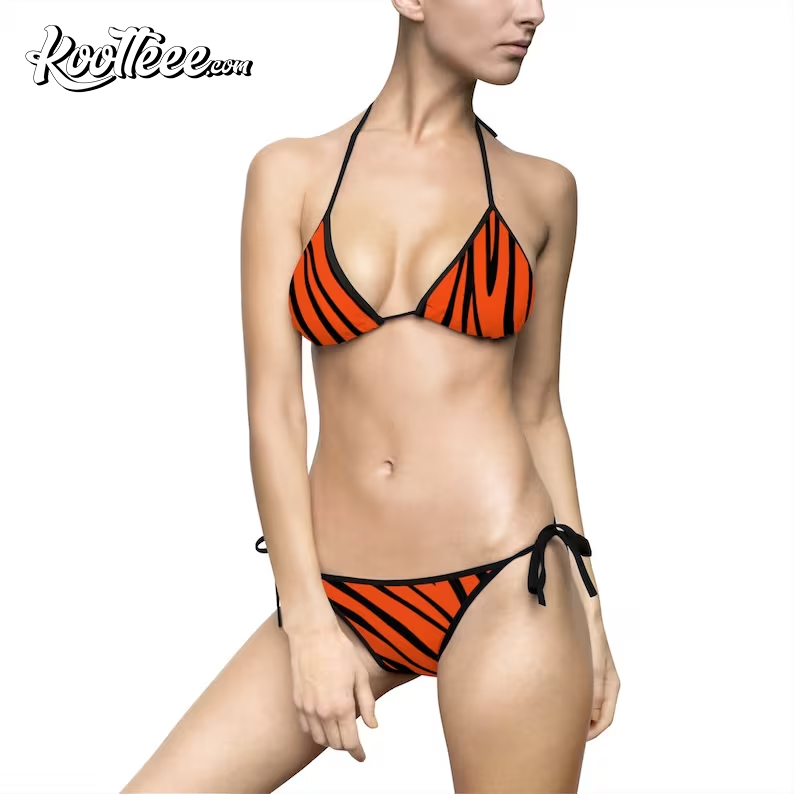 Cincinnati Tiger Football Stripe Women's Bikini Swimsuit
Immerse yourself in the energetic atmosphere at the beach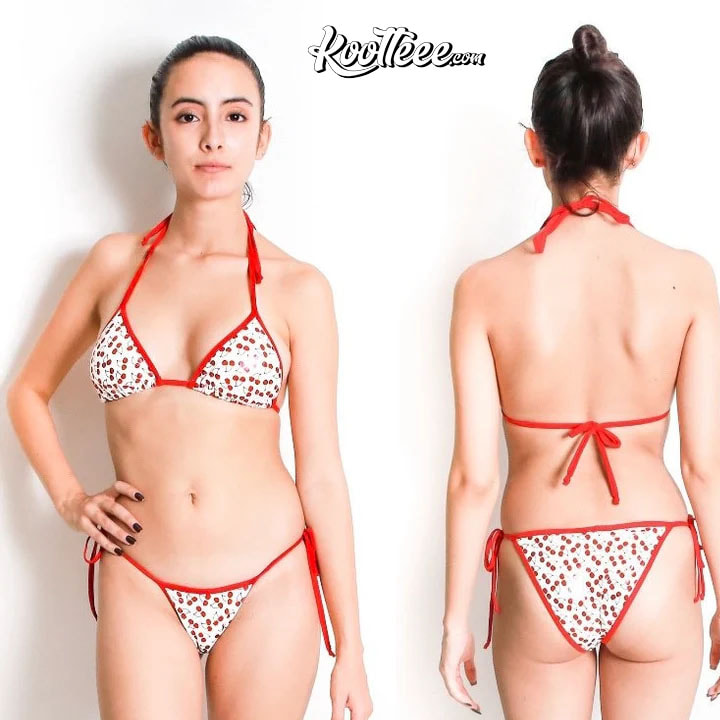 Cherry Print Bikini With Red Trim Bathing Suit Women Bikini Set
Cherry lady catch a lots of attention.
4. Beach coat
This is an integral item in beach outfits for women. Beach coats are essential products if you have a strong body, a slightly obese person who has large biceps or a fat belly. Wear two-piece tops, two-piece skirts, or strapless tops indoors, and a small jacket outside to confidently wander around the beach. Women are currently wearing fringed mesh jackets or bat-wing capes.
If you want a cheap beach gown, you might choose a thin chiffon material that has a low price but many designs. Mix and match this item with other accessories to have fascinating beach outfits for women.
5. Flowy beach kimono
A beach kimono is one of the ideal beach outfits for women who desire a touch of sophistication. Choose one in a lightweight, translucent fabric with attractive patterns that complement your swimsuit. This adaptable garment can also be worn as a casual dress for beachfront lunches.
Kimono beach robes are frequently worn with one-piece skirts or maxi dresses. Remember to select clothing size with the appropriate arm width.
6. Romper in a boho style
With a boho-chic romper, you can channel your inner bohemian goddess. Look for light fabrics and detailed designs with a free-spirited feel. To finish the bohemian appearance, add some beaded sandals and layered accessories. This is one of the necessary beach outfits for women of many ages.
7. Playful shorts
High-waisted shorts or others are not only fashionable but also functional for a day at the beach. Pair them with a pretty crop top or a flowing shirt for a fun and whimsical appearance. Add some espadrilles or sandals for a hint of comfort. It's truly put in the list of beach outfits for women to make more fashionable.
8. Beach headband
In addition to beach clothes for women like bikini or dresses, when going to the beach, the ladies can also equip themselves with a few other accessories to make the outfit more attractive and colorful, such as beach headbands, hats, hats or earrings, and so on. In which case, the headbands are wonderful accessories to assist her rank up swiftly, simply, and rapidly, which many girls like.
9. Beach hat
Don't forget to complete your beach look with a beautiful beach hat. A wide-brimmed straw hat not only keeps you cool in the sun, but it also adds a touch of class to your entire look. When it comes to choosing a beach hat to mix with beach outfits for women, several shapes of sedge hats, wide-brimmed hats, and even caps stand out. Choose the appropriate hat for the outfit you're wearing.
10. Off-the-shoulder glam
Consider an off-the-shoulder swimsuit or cover-up for an elegant yet sexy beach look. This look is ideal for displaying your sun-kissed shoulders while oozing irresistible charm.
11. Sporty yet trendy
Choose a sports beach suit for the more energetic beachgoers. Choose a high-quality swimsuit made for aquatic sports and match it with a pair of comfortable board shorts. Finish the ensemble with a fashionable visor and sporty flip-flops. This is an integral element in beach outfits for women that you should not miss.
Conclusion
With these beach outfits for women above, you will be ready to look and feel fabulous on your next beach vacation. There's a beach attire for women in every taste and occasion, from bohemian vibes to retro elegance and tropical flair. Keep your personal style and comfort in mind while enjoying the carefree attitude of the beach. Pack your beach bag, apply sunscreen, and prepare to make a statement with your amazing beach fashion!