Graduating from college is the most significant milestone in one's life. It represents years of hard work, dedication, and personal growth. It's a time to celebrate achievements, honor accomplishments, and mark the beginning of a new chapter. If you are searching for the perfect gift to commemorate this special occasion, look no further. In this blog post, we present ten best graduation gifts that are sure to bring joy to the graduate as they embark on their next adventure.
1. Personalized keepsake
A customized keepsake is one of sentimental graduation present ideas that preserves fond recollections from the graduate's college experience. Consider making a personalized photo album of their favorite memories, people, and experiences.
Alternatively, you can get a necklace, bracelet, or keychain engraved with their name, graduation year, or a meaningful statement. These personalized presents will be treasured mementos, reminding them of their accomplishments and amazing experiences from their college years.
2. Travel experience or voucher
A well-deserved break is in order after years of studying, examinations, and papers. Give the graduate a travel experience or a gift certificate to a destination of their choice. Travel experiences, whether a relaxing beach vacation, an adventurous hiking trip, or a culturally enlightening city tour, provide an opportunity to unwind, explore new places, and make lasting memories. This gift enables the graduate to recharge before beginning on post-graduation activities. This is one of the best graduation gifts for your children.
3. Handwritten letters
Sometimes the most emotional gifts are the simplest. Collect handwritten letters loaded with advice, encouragement, and well wishes from the graduate's family and friends. As they read these touching messages, they will be reminded of the love and support that surrounds them as they embark on their next adventure. It's truly one of the best graduation gifts you should keep in mind.
4. Printing customized sound waves
Do you need romantic graduation gift ideas for him? Consider using this print to surprise him on his special day. Any sentence from a love song can be converted into a sound wave painting. He may have this cute print hanging beautifully on the wall no matter where he lives, whether in a new dorm or in his current room.
5. Clothes is also one of the multipurpose graduation gifts
Clothing is a "multipurpose" present that can be given with sincerity on any occasion. Through these costumes, you can express words of encouragement to new grads for doing their best during their previous educational journey.
Furthermore, you will become quite intelligent when selecting clothing as graduation gifts for men or women because only close friends who understand each other will be able to discover a perfect shirt and pants that will make the recipient happy. If you are curious about the good place to buy, let's take a look at such best graduation gifts from Koolteee below: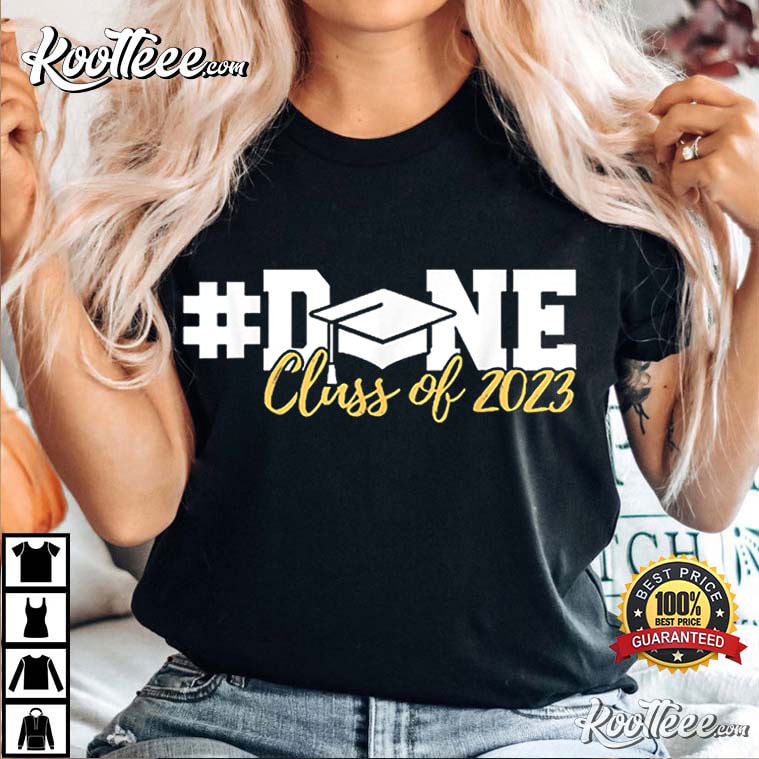 Done Class of 2023 Graduation T-Shirt
Get a good milestone of 2023!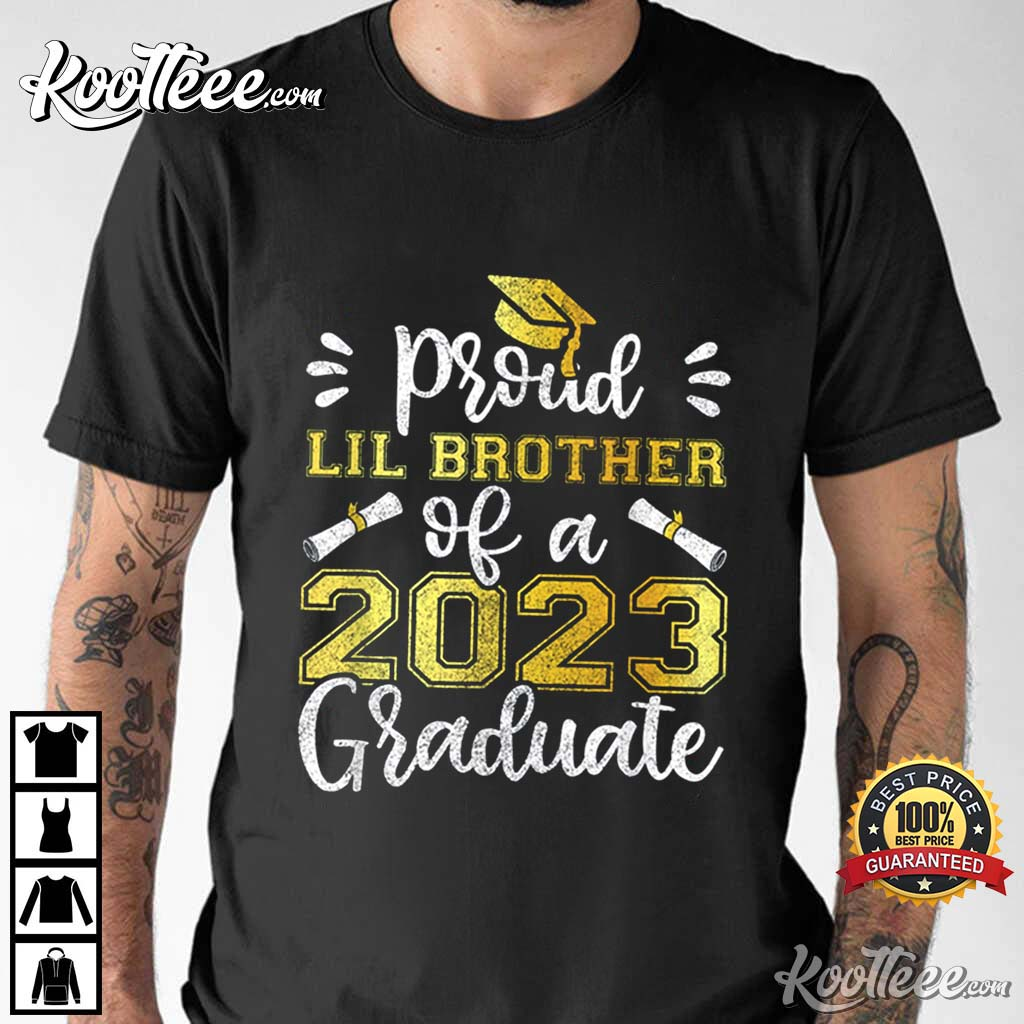 Proud Lil Brother 2023 Graduation T-Shirt
Proud of your brother!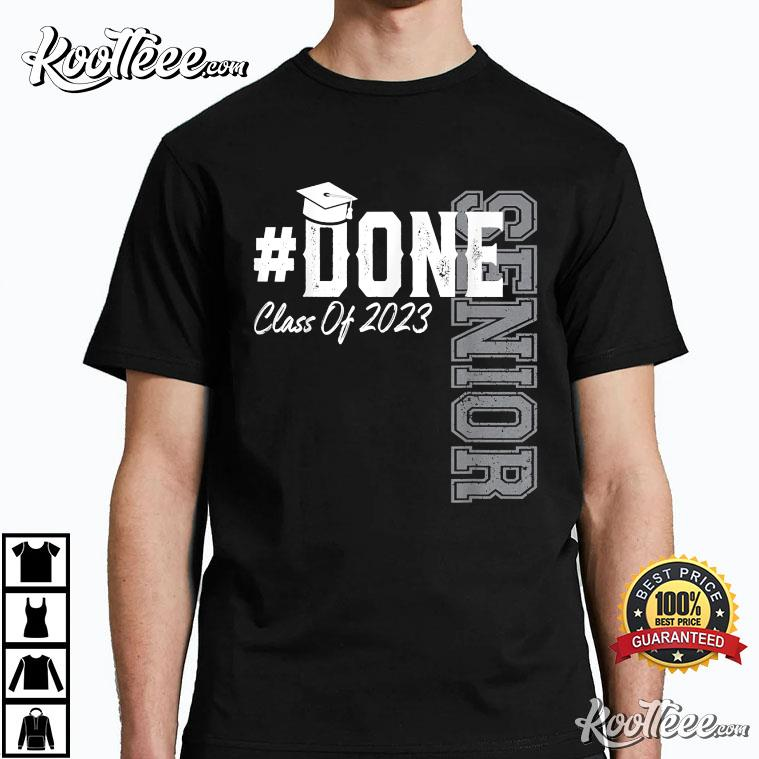 Done Class Of 2023 Graduation Seniors 2023 T-Shirt
Black cool T-shirt to remark the cool landmark!
6. Wellness and self-care package
The graduate will appreciate a self-care kit that promotes relaxation and well-being after the rigors of college life. Fill a basket with aromatic candles, bath bombs, a comfy robe, mindfulness notebooks, and healthy snacks to encourage them to prioritize self-care as they embark on their post-graduation adventure. It's truly one of the best graduation gifts to choose.
7. Technology Devices
Technology gadgets are crucial tools for both personal and professional life in today's digital world. Consider giving the graduate a high-quality laptop, tablet, or smartphone as a present. These technologies will assist them in staying connected, accessing information, and doing duties efficiently.
You can also consider accessories like noise-canceling headphones, a smartwatch, or a portable charger. Choose gadgets that meet their needs and interests, ensuring kids have the tools they need to prosper in the digital age. It's considered as one of the best graduation gifts for guys in today's world.
8. Financial support, one of the essential and best graduation gifts for your loved ones
Starting a new chapter after graduation is typically fraught with financial obligations and hardships. Financial assistance can be a meaningful gift that helps reduce some of the responsibilities.
You can help them pay off their school loans, open a savings account for them, or contribute to their investing portfolio. You might even offer to pay for certain expenses, such as professional certification fees or the cost of establishing their first residence. This present not only shows your confidence in their abilities, but it also gives them a solid foundation as they navigate their financial future.
9. Opportunities for professional growth
Investing in the graduate's professional development and growth is a valuable present that will benefit them in the long run. Enroll them in a professional development course, such as a project management certification program, a digital marketing workshop, or a public speaking class.
Alternatively, you can give them access to online learning platforms where they can select courses that are relevant to their job objectives and hobbies. These possibilities will help students improve their abilities, extend their knowledge, and gain a competitive advantage in their chosen field. It's truly one of the best graduation gifts for your loved ones.
10. Books about personal finance or life skills
Give the graduate a library of personal finance or self-help books to aid them with life skills. These tools can provide vital insights on managing money, developing healthy habits, and navigating adulthood's problems, preparing students for long-term success. It's one of the necessary best graduation gifts for your children.
11. Watch
This is a necessary item in modern life. The watch will be a more significant and functional graduation gift than ever before before the milestone of adulthood to begin a new journey.
Depending on the brand and model, you can choose this fashion accessory as both a graduation gift for ladies and a graduation gift for men.
Trendy watches are a very sophisticated graduation present in addition to their purpose of helping to govern time. They can be worn as a fashion accessory to complement your loved one's individual style. It's one of the best graduation gifts for both your boy and girl friends.
Conclusion
Choosing the good graduation gifts involves considering the graduate's aspirations, interests, and needs. Before the prospect of them exiting the real world puts you to tears, browse our selection of the best graduation gifts to find them something truly unique for their special day.