Have you ever had a beloved t-shirt or sweatshirt that you've owned for years but that is now old and worn out? In 1975, Comfort Colors was established by Barry T. Chouinard in rural Vermont by releasing a range of garments that had been dyed in a variety of colors.
1. How do you describe Comfort Colors?
This appearance and sensation is what Comfort Colors excels at providing. Because Comfort Colors has perfected the art of garment dye, which is a one-of-a-kind dying process in which garments are dyed for color after being stitched together as opposed to before, the company's t-shirts have a hip, retro appearance and a supple, broken-in sensation from the very first time they are worn.
When it comes to the process of adding new goods to our catalog, we adhere to stringent criteria. This is because we want to provide our community with the absolute finest alternatives possible in terms of clothes. It wasn't a difficult choice for comfy colors to make.
Because all of their shirts have been preshrunk, if one of their shirts fits you well before you wash it, it will continue to fit you just as well after you've put it through several wash and dry cycles. In addition to that, no other shirt company can compare to their shirts when it comes to the unparalleled level of comfort and variety of colors offered by their offerings.
100% ring-spun cotton is used in the construction of the Comfort Colors Shirts. Because of this procedure, the cloth will be extremely comfortable, much like the feeling you get from wearing your go-to t-shirt after it has been washed several times.
2. History of Comfort Colors
In 1975, Barry T. Chouinard established Comfort Colors in rural Vermont by releasing a range of garments that had been dyed in a variety of colors. He began his venture with a capital investment of $275.00 and an old washing machine. The firm responded to the increasing demand for colorful clothing in the United States by releasing its first line of t-shirts using direct dyeing. Throughout the course of several decades, the color palettes have evolved in response to shifting fashions in popular color palettes, such as the rise of neon. In 1989, the company's revenue reached $8.9 million, and it continued to expand in the following years. In 1995, the year in which the firm first started marketing items under its own label, the Comfort Color brand was formed. 2005 is the year that Comfort Colors is the first company in the industry to sell garment-dyed ringspun cotton t-shirts. This technique results in a cotton that is softer, smoother, and more long-lasting. In 2007, a range of pigment dye was released, which featured newly developed earthy tones. The sales reached a total of $27.8 million as a direct result of the growing demand for the brand. The Gildan Corporation began producing Comfort Colors blank t-shirts in 2013, which helped to reduce costs, improve quality, and support their sustained steady and rapid expansion. After leading the firm over the previous four decades, Barry T. Choulinard decided to retire in 2015 and sell it to Gildan for $100 million before stepping down as CEO.
Comfort Colors Harry Styles Late Night Talking T Shirt
Harry Styles's lover will love this merch
3. The cool look & comfortable feel of Comfort Colors
Comfort Colors is a firm that focuses in, in their own words, "making a brand new clothing seem familiar." The company was established approximately 50 years ago. Comfort Colors is well-known and adored for producing natural, real t-shirts that have the appearance and feel of having been worn-in over time. These shirts take their color cues from the colours found in nature.
You know how some t-shirts get more comfortable to wear over time, like the one you keep reaching for and can't wait to pull out of the drawer? This appearance and sensation is what Comfort Colors excels at providing.
By mastering the art of garment dye, a one-of-a-kind dyeing process in which garments are colored for the first time after they have been stitched together as opposed to before, Comfort Colors is able to give their t-shirts a hip, vintage appearance as well as a supple, broken-in sensation from the very first wear. T-shirts like this are perfect for you to wear if that is the style you are going for.
4. Is Comfort Colors eco friendly?
The organic cotton used in the production of Comfort Colors shirts is of the highest quality and is cultivated without the application of hazardous pesticides or fertilizers, therefore minimizing the brand's negative influence on the natural environment. The process of dying Comfort Colors shirts is also eco-friendly since it employs a one-of-a-kind approach that reduces the amount of water needed and the amount of trash produced. In addition, the firm has adopted a number of other steps to lower its carbon footprint, such as the utilization of renewable energy sources and the reduction of waste from packaging. Customers may feel good about their purchase of brands that use comfort colors products since they know they are supporting a business that places a priority on the wellbeing of the environment.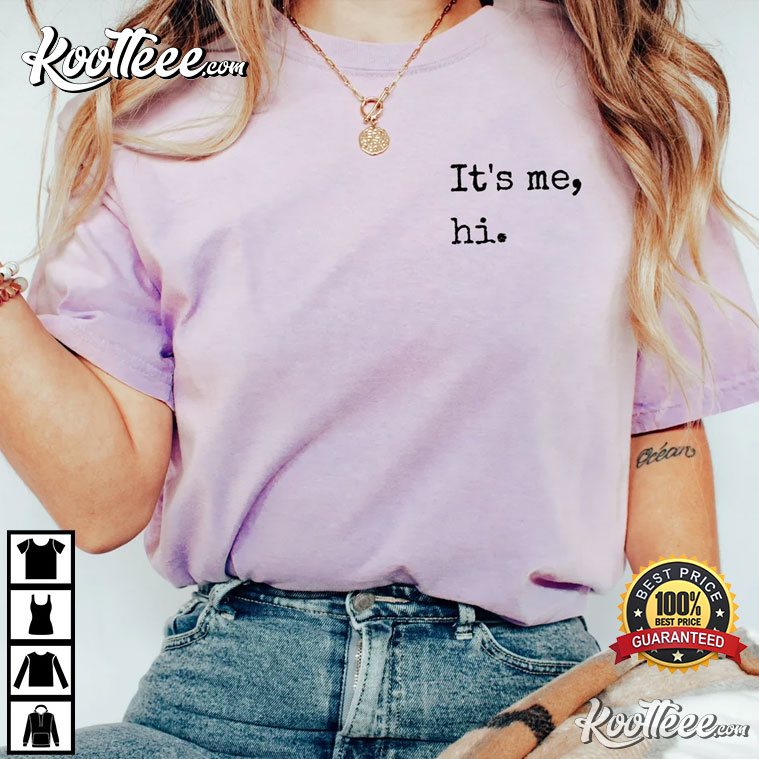 Its Me Hi Anti Hero Comfort Colors Swiftie Fan Gift T Shirt
Check out this item for Swiftie!
5. How to choose size for a Comfy Shirt?
The word "comfortable" even refers to the cut of the garment. The looser, less fitting appearance of this tee is one of our favorites, and we think it's especially great for our clients who may be extremely busy but still want to look and feel fashionable. When compared to other types of shirts, Comfort Colors are often thicker and have a bigger cut than their competitors. Hence, take in mind that the size that you often wear may fit a little bit looser on you while making your decisions.
Loose pigments may be left on the surface of the clothing after the dyeing process that is used to create Comfort Colors pigment dyed hues. This is because of the nature of the dyeing process. Due to the fact that some of the pigment dyes may leave a stain on light or white colored clothing while they are being washed, we highly urge that you only wash these clothes with other garments of the same color.
If you wash the clothes in cold water, there will be less of a chance that they will become stained.